Last year was an unprecedented one for venture-backed public offerings. Massive, much-hyped listings from companies such as Uber, Lyft and Slack generated a total of $261.6 billion in VC-backed exit value in the US alone, according to PitchBook data, twice as much as any other year on record. It seemed unlikely we would see a similar string of debuts any time soon.
This year won't match the 2019 total. And yet for a seven-day stretch, the past week brought an IPO frenzy equal to any in recent history, including a $70 billion explosion from Snowflake and a series of first-day pops that generated billions in value for venture capitalists.
The Silicon Valley to Wall Street pipeline is running at peak capacity, which is one of 11 things you need to know from the past week:
1. Pop goes the startup
Part of the intrigue around last year's bumper crop of venture-backed IPOs was that many of the companies going public were mature by Wall Street debut standards, and venture firms had had plenty of chances to invest at already-elevated valuations. Uber, for instance, first achieved unicorn status in 2013 and went on to raise more than $10 billion in further funding before its eventual debut in May 2019, according to PitchBook data.
It was a very different story for Snowflake and some of the other companies to go public this week, where a rapid rise in valuation contributed to enormous potential for profit. This was closer to the classic Silicon Valley dream, where an investor gets in on the ground floor of the next big thing and generates firm-changing returns.
First, the basics: Snowflake is a data warehousing specialist based in San Mateo, Calif., that hopes to use its cloud-based services to take on industry titans like Oracle and Amazon. Coming into this year, it had raised about $920 million in funding and carried a valuation just shy of $4 billion—big numbers, to be sure, but nothing extraordinary in the current venture landscape.
The first eyebrow-raising sign came in February, when the company hauled in $478.8 million in new backing at a $12.4 billion valuation. When Snowflake confidentially filed for an IPO this summer, there were whispers it could reach a $20 billion valuation. By early this week, those estimates had inched north of $30 billion. And when Snowflake's IPO finally went out of the gate on Wednesday, it was with an initial $33 billion market cap, which then soared to $70 billion by the end of its first day trading.
For the company's biggest backers, it must have been a wondrous sight. Together, Sutter Hill Ventures, Redpoint Ventures, Iconiq Capital, Altimeter Capital and Sequoia own 63.3% of Snowflake's post-IPO shares, according to the company. The combined value of those shares as of this writing: a cool $42 billion.
The paper profit Snowflake's offering generated for those firms is even more impressive. Sutter Hill, which built a 20.3% pre-IPO stake, invested in Snowflake's seed and Series A rounds, acquiring shares for 17 cents and 35 cents apiece, respectively, according to PitchBook data. For those seed shares, Snowflake's first-day close of $253.93 represents a return on investment of about 150,000%. Redpoint, which retains a 9% stake, led Snowflake's Series B in 2014, acquiring shares for 97 cents. That divides out to a much more modest return—a mere 26,000%.
A half-dozen other notable startups also conducted IPOs this week, part of a September sprint that's set to continue in the weeks to come. One reason, surely, is an eagerness to get it done before the highly uncertain variable that is November's US presidential election. Another, just as surely, is that seemingly every company that goes public these days sees its valuation go up, up, up.
Unity Software, which makes tools for video game developers, priced its IPO this week well above range, at $52 per share, and then opened trading Friday at $75. That lifted its valuation to around $20 billion, compared to a reported $6 billion in its final round of VC funding. Two other unicorns, Sumo Logic and AmWell, priced their IPOs above range and then saw first-day pops of more than 20%.
The list goes on. JFrog saw its shares soar 47% in their first day, nearly quadrupling the company's last reported private valuation. For Canadian payments company Nuvei, it was a 73% opening pop. Stock in Outset Medical rose 125% in its first day. And that's only from this week. Lemonade, BigCommerce, Vital Farms, CureVac, Vroom, ZoomInfo and others had huge early pops of their own in the preceding weeks.
The coming week's IPO calendar looks a little lighter. But then the action will pick right back up: Palantir Technologies is slated to do its long-awaited direct listing Sept. 29, with Asana's direct listing due to follow a day later. After the past seven days, investors in those two companies could be forgiven for licking their chops.
2. The next generation
Wall Street's recent reception of IPOs has been so encouraging that a new cohort of companies is already getting started on plans to debut in 2021. Bloomberg reported that oat milk maker Oatly is eyeing a listing that could result in a $5 billion valuation. Oscar Health is preparing an offering of its own, according to Axios, fresh off $225 million in new VC funding. And Flipkart and its majority owner, Walmart, are readying an IPO that could value the Indian ecommerce power at $45 billion or more, Reuters reported.
3. Talking the Tok
It is my job to follow this stuff, and even I am having trouble keeping track of all the twists and turns of the TikTok saga. On Friday, the US announced it would ban new downloads of both TikTok and WeChat beginning Sunday. That news came after a series of competing reports about the ongoing talks between ByteDance, TikTok, Oracle, Walmart, the White House and Beijing, as the six sides (plus other stakeholders) continue trying to find some sort of common ground in the midst of a truly messy situation.
4. Fintech mega-deals
Digital banking startup Chime raised new funding this week at a $14.5 billion valuation, overtaking Robinhood as the most valuable consumer fintech startup in the US. Europe's startup scene also has a new fintech king, as Klarna banked $650 million this week at a $10.65 billion valuation. Affirm—which, like Klarna, provides financing to help users make larger purchases—hauled in $500 million of its own this week. And among traditional finance powers, Swiss banks UBS and Credit Suisse are said to be mulling a potential mega-merger.
5. Social's network
Social Capital founder Chamath Palihapitiya continued his transition this week into the ranks of the blank-check barons. One special-purpose acquisition company backed by Social Capital agreed to merge with proptech startup Opendoor in a $4.8 billion deal. And three more Social Capital-backed SPACs are on the way, according to SEC filings, including Social Capital Hedosophia Holdings IV, which Bloomberg reported will aim to raise $500 million.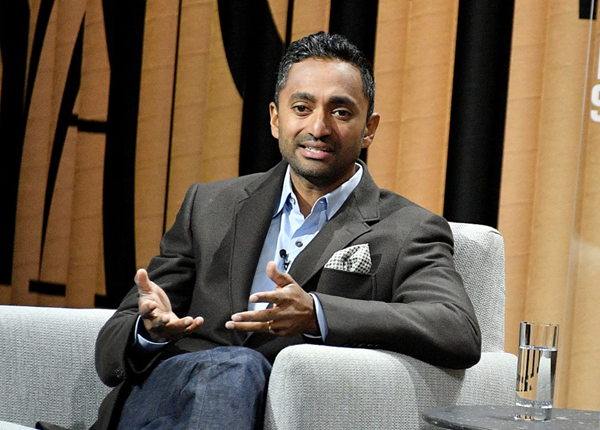 6. Fitness fundings
Investors continue to pour capital into home fitness companies during America's mass hermitization in 2020. Zwift, which gamifies workouts via multiplayer platforms for cycling and running, raised $450 million at a reported $1 billion valuation in a round led by KKR, while Tonal, which focuses on tech-powered weight and resistance training, added $110 million to its war chest. The in-home revolution also has its downsides, though: Flywheel Sports, a proprietor of spin studios, reportedly filed for bankruptcy and announced plans to shut down.
7. Piles of powder
In the private equity world, Clayton, Dubilier & Rice has gathered about $12 billion in commitments for its latest flagship fund, according to an SEC filing. KKR, meanwhile, has topped $11 billion in commitments for its latest Asia fund, en route to a reported $12.5 billion target. And Greylock Partners announced a $1 billion close on its 16th flagship venture fund, which the firm will use to capitalize on what it described in a blog post as "an incredible moment in time for technology."
8. Non-stop SPACtion
Social Capital was far from alone this week with its SPAC deals. Apollo Global Management filed for a $750 million SPAC, while AEA Investors is throwing its weight behind a new $400 million SPAC that will target an impact-focused investment. Meanwhile, noted entrepreneurs Reid Hoffman and Mark Pincus raised $600 million for their initial SPAC, a SPAC backed by Paul Ryan raised $360 million, and Richard Branson's Virgin Group is readying a new $400 million blank-check company.
9. Nikola drama
The opposite side of the SPAC coin was on full display this week in the saga of Nikola, an electric vehicle maker that now finds itself under investigation by both the SEC and the Justice Department for alleged fraud, just three months after going public in a $3.3 billion SPAC merger. Details are still emerging, but the company could turn into a prime example of the concern in some corners that going public through a SPAC merger could allow businesses to skirt the traditional due diligence that accompanies an IPO.
10. Uber divestitures
One of the most ambitious startups in Silicon Valley history spent this week in pursuit of deals to shrink its footprint around the globe. First, Uber reportedly agreed to sell its European freight operations to German startup Sennder for €900 million (about $1.1 billion). And shortly thereafter, reports emerged that Uber is in talks to sell off part of its 15% holding in Chinese competitor Didi Chuxing, a stake believed to be worth $6.3 billion.
11. An Arm and a leg
Speaking of divestitures: SoftBank agreed to sell Arm to fellow chipmaker Nvidia for $40 billion, the latest step in an ongoing program to liquidate a significant chunk of the Japanese conglomerate's assets. The deal is massive, but it may not be a sure thing. Already, chatter is beginning to build that the proposed high-tech takeover could be the latest transaction to spark regulatory tensions between the US and China.
Source: PitchBook