As an angel investor and venture capitalist for over 30 years, ­Asgari Stephens has learned many lessons. Some have led to successful outcomes, such as his investment in JobStreet before it went public in 2004. Others have resulted in sizeable losses.
Asgari was chairman of the Malaysian Venture Capital Association 15 years ago. In 1999, he started Intelligent Capital Sdn Bhd, one of the first venture capital (VC) firms to be fully funded by private individuals and corporations in Malaysia. At that time, many VC firms were bank-backed.
"The VC scene back then was immature and companies were overvalued … The fees were low and funds were small in Malaysia. It was very hard to make a lot of money in early-stage seed investing. The other big problem in the industry was that we didn't have a good ecosystem, so follow-on funding was an issue," Asgari says.
The industry has since matured, he observes. Today, Malaysian start-ups can also seek funding abroad from Singaporean angel investors or VCs.
"The ecosystem is much better too. Cradle [Fund] and Dr Siva [Dr Sivapalan Vivekarajah, former president of Malaysian Business Angels Network], for instance, have done a great job in getting companies ready to be investable. But I think the fund ecosystem is still not big enough. It is mostly seed and pre-IPO funding that is available here. To get Series A funding, start-ups might still need to go to Singapore," says Asgari.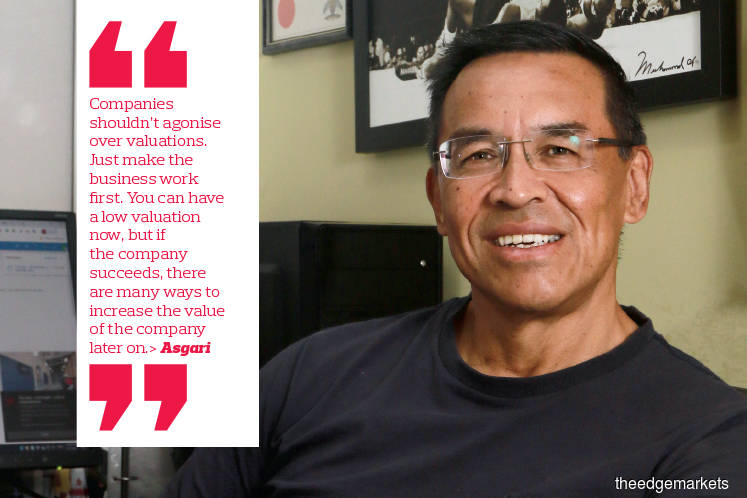 While Intelligent Capital no longer accepts external investments, Asgari still uses the firm to co-invest in deals. He remains an active angel investor, and some of his recent investments include insurtech company Fi Life, online human resources software provider Kakitangan and More To Life, a company that provides equity release services for elderly homeowners.
Asgari became interested in private markets after working for businessman Ananda Krishnan for many years. During his time at the investment division of Usaha Tegas Sdn Bhd, which was led by the Malaysian tycoon, he worked with VC and private equity (PE) firms to manage the company's investments.
In 1996, Asgari left and co-founded Kumpulan Sentiasa Cemerlang (KSC), an asset management firm that invests in public equities. In 1999, he ventured into the private markets with Intelligent Capital. ­Asgari was also executive director of iSpring Venture Management Bhd, which was a VC fund manager for Mavcap Technology Sdn Bhd, for a few years.
Reflecting on his time spent investing in the private markets, Asgari says one of the major lessons he learnt was the importance of determining the right portfolio allocation.
"We made a whole bunch of small but good investments and one big, failed investment [through Intelligent Capital]. That made our fund returns very average. That one big mistake undid us," says Asgari. Due to this experience, he began wondering if the "spray and pray" method of investing, where one invests small stakes in a large number of companies, was a suitable strategy for him.
"A venture capital firm like 500 Startups uses that strategy. I read in a research paper that the ideal number for this kind of portfolio is 450 companies. There'll be winners and losers, but you'll make money. Your cost of monitoring must be low for this model to work," he says.
The other model, which Asgari eventually adopted, was investing in larger stakes in fewer companies that were likely to succeed.
"My wife calls me Mr 5% because I had a below 5% stake in many companies [using the spray and pray method]. But in the end, if you don't have a meaningful stake, you don't pay enough attention to the companies. On the other hand, when you have a bigger stake in fewer companies, you must help these companies succeed. This could be a riskier strategy [if the companies fail]," he says.
This strategy has not always been smooth sailing for Asgari. He recalls taking big stakes in two companies — one involved in rubber plantations and the other in construction — that eventually failed. The first happened in 2008, when a company that had agreed to buy the plantation reneged on the deal due to the financial crisis. The latter failed because of bad management.
But there have been success stories too. In fact, one of his biggest deals was his stake in JobStreet, where the company had a strong management team and the job search industry was ready to be disrupted.
Intelligent Capital held JobStreet shares prior to the online job search portal's initial public offering (IPO) on Bursa Malaysia's Mesdaq market in 2004. The share price of the company rose significantly over the course of the year.
If Asgari had held the shares for his investors for a year, he could have reaped good returns for the VC fund by charging carry on the stock's performance.
However, he made a different decision. "I wanted to give my investors a good deal. We were not public equity managers so I didn't want to charge carry on public equities. When JobStreet went for the IPO, we parcelled out the shares to our investors. If we had kept them for a year, we could have charged the 20% and earned a few million dollars. But the investors appreciated our move."
Investing in the right people
Another important factor that guides Asgari's investment decisions is identifying good founders and management teams. Examples include investments in business radio station BFM and Fi Life. Both were founded by Malek Ali, who was part of the JobStreet management team.
"I knew him when he started KL Classifieds years ago. It was the first free newspaper in Malaysia. I kept in touch with him when he was in JobStreet. He's a very clever and meticulous person. He executes his job well, he's humble and reliable. If he tells me he's going to do a new venture, I'm happy to put money behind him because you can trust him. [After all], 90% of investing in a start-up is about the people," he says.
Last year, Asgari and a few BFM shareholders, including Tan Thiam Hock, formed an investment holding company to invest in Fi Life and some other companies, including More To Life, Newswav and Kakitangan. Tan later set up PE firm 5X Capital to manage the investment holding company.
Human resources system provider Kakitangan and online news aggregator Newswav operate in interesting spaces. More importantly, they have good leaders, Asgari states.
Unfortunately, More To Life has been put on hold as the Malaysian market is not yet ready for its product, he explains. More To Life allows elderly homeowners to release a sum of cash from their house to fund their retirement. They can live in the house for the rest of their lives but the asset will no longer form part of their inheritance. A buyer will receive the house at the end of the homeowner's life.
"It needs an ecosystem and a market maker. We've spoken to some parties with deep pockets like insurance companies and an institutional investor to become the market maker, but they're not interested. It's a great concept and way to unlock the value of properties, but it cannot work unless there is a [large] market maker who is willing to buy and sell the properties. Otherwise, there is no liquidity.
"I think Soalen [Sittampalan, the co-foun­der of More To Life] is a smart young man with a great idea. The time will come [for this solution to work]. In the UK, insurance companies are providing the liquidity for reverse mortgages [which use a similar concept as More To Life]."
Aside from the investment holding company, Asgari also has several angel investments of his own. A few months ago, he invested in Sparex, a company that sells automotive spare parts online. Many dealers have extra inventory that they struggle to manage, and Sparex helps take it off their hands.
"We started off with selling original spare parts for BMW. We are talking to Volkswagen and other brands now. We're also getting dealers from around the region to sell their spare parts. There have been similar models in the US and Europe that have worked very well," says Asgari.
Another company he recently invested in is Scholarships2U. The company required funds to upgrade its software so it can match students to scholarships more efficiently online. Students can do a benchmark test on its website and, based on the results, the platform will suggest suitable scholarships for them.
"The founder places children in schools [by helping them go through the application process and matching them with the right school]. His father has been doing this for 25 years. He placed my children in a boarding school in Australia as well," says Asgari. Scholarships2U's model is almost similar to JobStreet's, he adds.
"Schools pay a fee to list their scholarships on the platform. Students pay a fee to sign up and do the test, and from there, they can filter through the scholarships that they qualify for."
Asgari is also invested in health-related start-ups, which he considers a growing area. One of his investments is in Ento, which produces insect protein, such as roasted crickets and roasted larvae, for human consumption.
"I think the time for insect protein, which is a healthy source of food, will come. I keep telling the guys not to run out of money before then! The founder, Kevin Wu, is a smart young man who is very meticulous," he says.
Slowing down and preparing for downturns
At 59, Asgari is focusing his efforts on fewer companies and relying on people he trusts to manage his investments. Some of them are analysts who followed him from Intelligent Capital to 5X Capital, as well as former colleagues.
"I'm getting older now and I just want to look for young, clever money managers. I still have investments with my old partner in KSC, who is looking after my family funds. My track record as an investor is average. I've had the occasional good win and some terrible losses," he says.
With a downturn expected to occur as a result of the Covid-19 pandemic, Asgari has been ensuring that his portfolio companies have enough cash on hand. He advises start-ups to be prepared for a longer fundraising process and to be more realistic about valuations.
"Companies shouldn't agonise over valuations. Just make the business work first. You can have a low valuation now, but if the company succeeds, there are many ways to increase the value of the company later on," Asgari says. This can be done when the company is successful and the founder wants to inject money into it at a higher valuation.
"One of the companies I invested in wanted to raise their valuations recently. I said to them that at this time, they should get hold of whatever money they can, even with a low valuation, as long as they survive and execute their plans. In a difficult market, you'd be better off having some money and a clear mind to execute with courage when everyone else is fearful."
What about public markets? Asgari has been on the board of several listed companies, such as Maxis Bhd, Mudajaya Group Bhd and JayCorp Bhd. He also experienced the 1997 financial crisis when he was with KSC.
"Actually, we saw the 1997 financial crisis coming and it's one of the reasons why we were reasonably successful in those days. We made money out of the crisis by identifying who would be the big winners. We thought it would be the exporters, the plantation and tech companies, so we invested in them when their prices were low. These counters were the first to bounce back when the ringgit weakened. It was a good hedge," says Asgari.
Now, he believes investors should look for companies with good balance sheets. Asgari's funds are managed by KSC, which does bottom-up stockpicking. While it is a tough market for investors, he believes there are more opportunities in public markets than private markets at the moment.
"I think there is more upside in public markets because valuations of public companies have fallen," he says. A type of deal he is looking at is private investments in public equities (PIPE).
"Brahmal [Vasudevan, founder of PE firm Creador] does brilliant PIPE deals, such as that in OldTown White Coffee. I think there are plenty of similar deals to be done now where you take a 10% placement in a public company as a private investor and then work with the company to increase its value. Now I'm just looking to see if I can find the right kind of company," says Asgari.
Source: The Edge