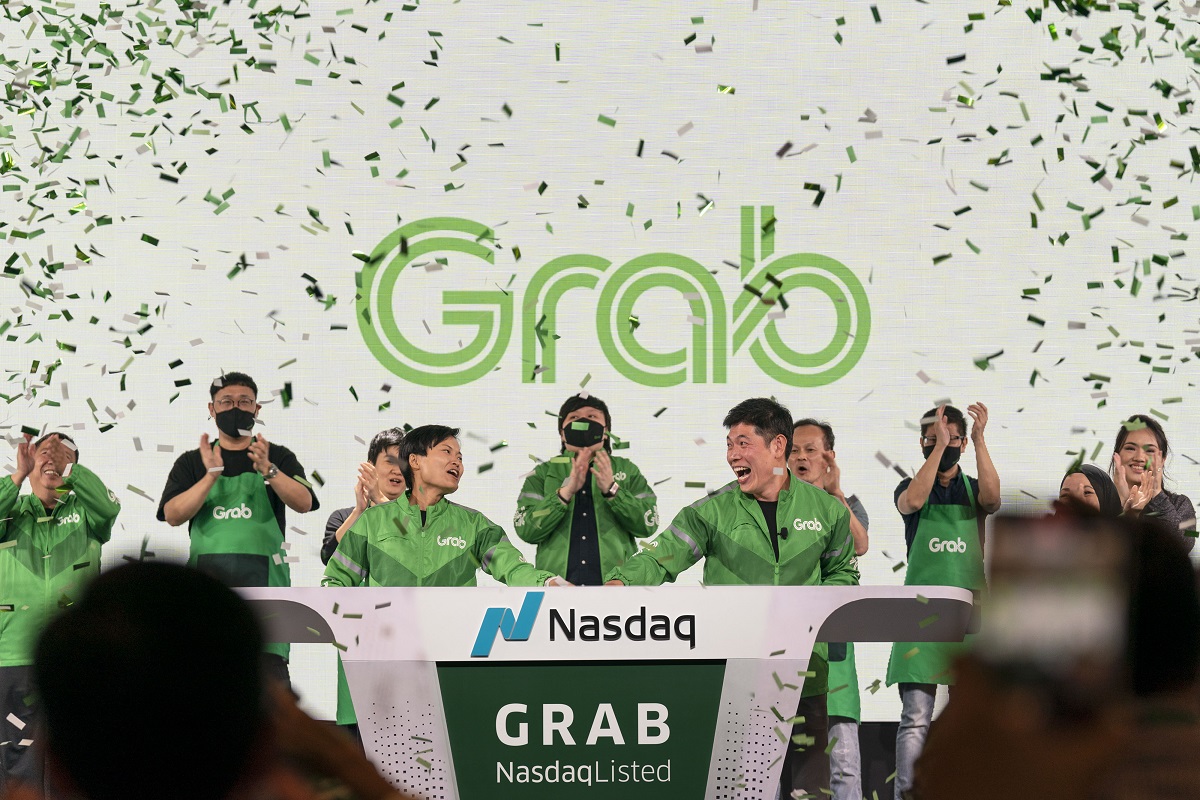 Grab group chief executive officer and co-founder Anthony Tan (front right) and co-founder Tan Hooi Ling (front left) ringing the opening bell in Singapore as Grab went public on the Nasdaq on Thursday (Dec 2).
KUALA LUMPUR (Dec 2): Southeast Asia's leading super-app Grab Holdings Ltd, with the ticker "GRAB", celebrated its milestone US public listing on Thursday with Nasdaq's first-ever opening bell ceremony hosted in the region.
The ceremony held in Singapore, which was attended by Grab employees as well as driver-, delivery- and merchant-partners, came after the nine-year-old ride-hailing and delivery firm announced its US$40 billion (RM169.2 billion) merger with a special purpose acquisition company (SPAC).
The firm had in April this year merged with a US tech investor Altimeter Capital Management's SPAC, Altimeter Growth Corp, and raised US$4.5 billion, including US$750 million from Altimeter.
In his speech, Nasdaq chairman of Asia-Pacific Bob McCooey said this was the largest-ever US public listing by a Southeast Asian company.
"I can see why Grab has grown into a household name and the number one super-app in Southeast Asia. Having spent the last few days in Singapore, I've tried booking a ride, ordering food delivery, and paying with GrabPay. I'm liking this one-app-for-all experience!
"More importantly, I respect companies like Grab that empower people, and I'm glad to meet with Grab's drivers and merchants who are here today as examples of how technology can be used to grow businesses and earning opportunities," he said.
McCooey said that Thursday's milestone is a testament to the hard work of everyone at Grab and for their passion to innovate and lead greater digital opportunities in Southeast Asia.
Grab group chief executive officer and co-founder Anthony Tan said it is important for the ride-hailing and delivery firm not to lose sight of what this was all built on — "the heart and hard work of our Grabbers to serve our partners, and in turn, the dedication of our partners towards serving their customers."
"That's why we chose to hold the ceremony close to home. To be here, amongst our community, sharing the moment with them as we cross the threshold into a new chapter of our journey," he said during the ceremony.
Tan and his co-founder Tan Hooi Ling (not related) were joined onstage during the opening bell with representatives of Grab driver-, delivery- and merchant-partner communities, who were on the frontlines transporting people, preparing as well as delivering food and essential goods, especially during critical stay-home pandemic periods.
In recognition of the collective effort and continued partnership of the Grab community to reach this milestone, about 1,500 Grab employees, as well as representatives from Grab's partner communities, from across Southeast Asia was featured on the Nasdaq Tower in Times Square, New York City, after Grab officially listed on Nasdaq.
From its first office based in Segambut here, Grab's Nasdaq listing has set a high benchmark for startups in the Southeast Asia.
Source: From Segambut To New York: Grab Celebrates Listing Milestone