Instacart has been valued at $17.7 billion with a new $200 million round, underscoring a sustained demand for grocery delivery and a shift in how Americans shop for food during the coronavirus pandemic.
With the investment led by existing investors Valiant Peregrine Fund and D1 Capital Partners, Instacart is now the sixth-most valuable VC-backed company in the US, according to PitchBook data. The company has also surpassed DoorDash as the most valuable food delivery company in the country, PitchBook data shows.
The coronavirus outbreak forced brick-and-mortar grocers to scramble for the digital infrastructure needed to meet customers' demand for online shopping, said Alex Frederick, an emerging tech analyst at PitchBook. "Grocers are increasingly turning to Instacart to obtain online capabilities and keep pace with Amazon and Walmart."
The San Francisco-based company has now raised a total of $525 million since the outset of the pandemic in March. Its valuation has more than doubled since the end of 2018: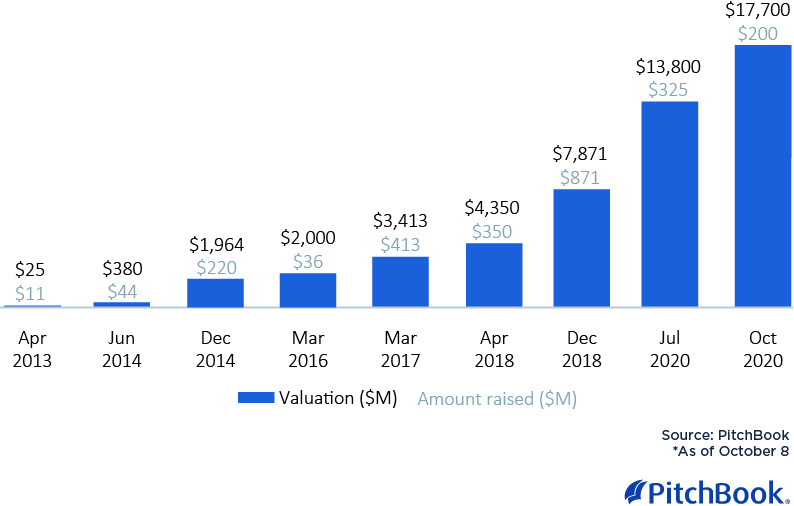 Founded in 2012, Instacart has emerged this year as a leader in grocery delivery with a 48% share of the market as of August, according to data analytics provider Second Measure.
But the pandemic has also lifted the demand for delivery companies of all stripes.
GoPuff also announced $380 million in new funding on Thursday, bringing the delivery startup's valuation to $3.9 billion. The round was also co-led by D1 Capital Partners and joined by Accel. Philadelphia-based GoPuff has tripled the number of cities it serves to over 500 in the past year and a half.
Uber's restaurant delivery business emerged as its leading money maker, with revenue of $1.2 billion in the second quarter. The company recently expanded into grocery delivery in Latin America, Canada and the US.
Online grocery spending has tempered somewhat following an April peak as pandemic-related restrictions have eased, Second Measure data showed. But companies in the space continue to benefit from a bigger user base as well as larger and more frequent orders, Frederick said.
Instacart plans to invest in services for customers and retailers as well as its ads business, which brands can use to reach shoppers through the Instacart app. More than 85% of US and 70% of Canadian households now have access to the company's service. It works with more than 500 retailers and recently began deliveries for 7-Eleven and Sephora.
Profits have been elusive for most delivery startups, but Instacart was able to turn a profit for the first time in the month of April after skyrocketing sales, according to The Information.
Source: PitchBook