KUALA LUMPUR (Jan 16): SoftBank Vision Fund, Temasek Holdings, Tiger Global and Sequoia Capital China were some of the investment firms that helped drive 2021 investment funding in the region to US$165.1 billion (RM690 billion) — up 50% from 2020.
In a report on Friday (Jan 14), Crunchbase — which tracks trends, investments and news of global companies from start-ups to the Fortune 1000 — said Asia set new records for funding last year, with a list of familiar names that led the charge both in terms of dollars invested and number of deals done.
Money
It said in terms of dollars, no firms led or co-led bigger rounds in the region than SoftBank and Temasek.
Crunchbase said the nearly the US$15 billion of rounds SoftBank led or co-led represent an almost 150% increase over the US$5.5 billion in 2020.
Something similar was true for Temasek and Tiger Global, which both led or co-led rounds worth around US$1.5 billion in 2020 but significantly stepped up their game in Asia last year.
Crunchbase said the most surprising aspect is not that these firms write large cheques, but the number of cheques they were willing to write.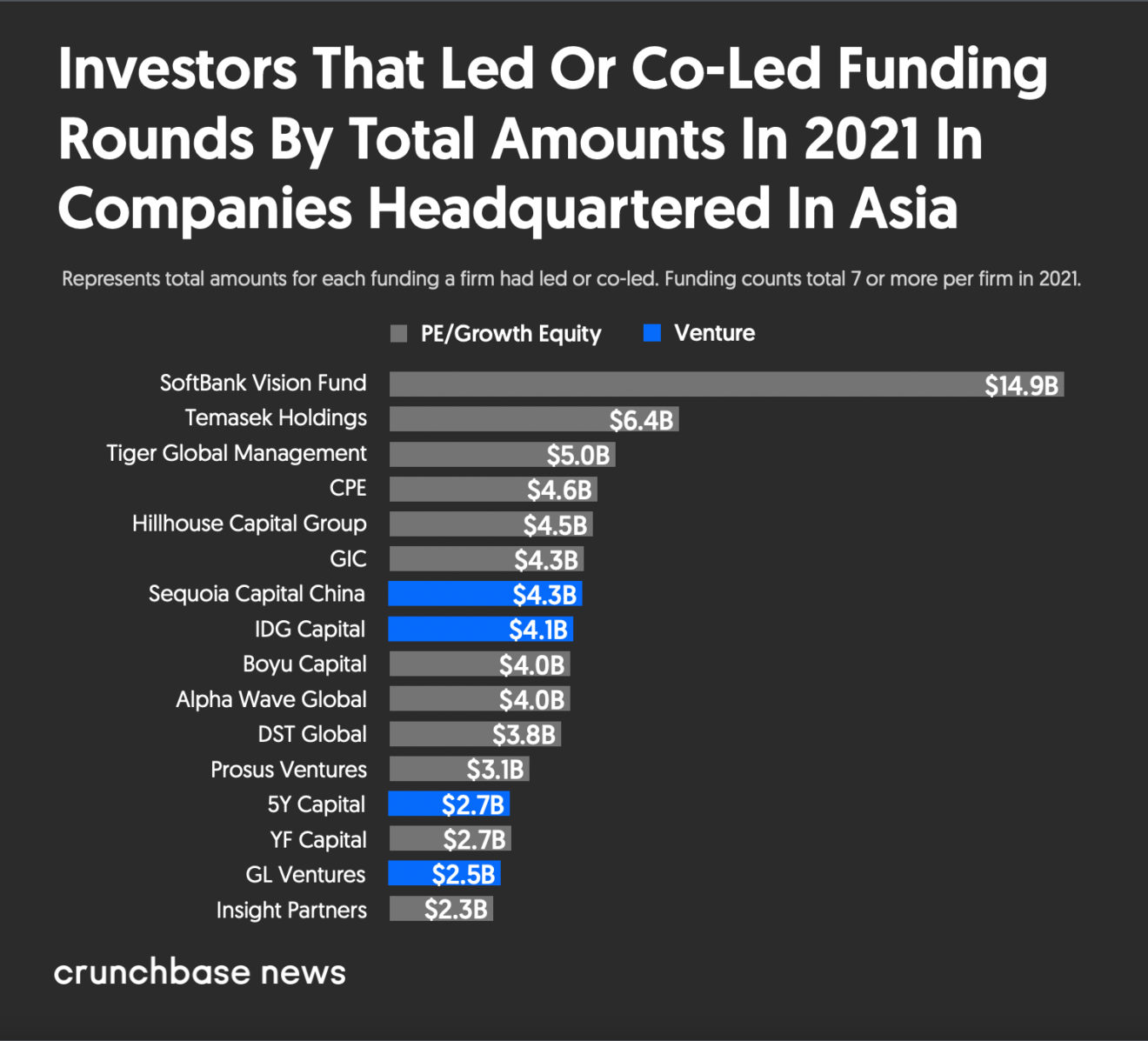 It said Tiger increased the number of rounds it co-led by more than six times, and others like SoftBank and Temasek were not far behind.
The report said although big investors backed big rounds, deal flow in general in Asia was strong last year, with more than 5,500 companies receiving funding — up from 5,100 the year before.
While the majority of those companies were at seed-stage, the largest increase in the number of companies receiving money were early- and late-stage startups.
It said no firm funded more companies in the region than Sequoia Capital China.
The firm surpassed the century mark in terms of the companies it funded last year with 103, significantly up from 74 in 2020.
IDG Capital nearly doubled the number of companies it invested in 2020, it said.
Seed investors
Crunchbase said while late-stage and growth rounds normally capture the headlines due to the big dollar numbers associated with them, angel and seed rounds saw their best year yet in the region, with US$5.3 billion invested in those early rounds even though the number of deals stayed pretty stagnant.
It said several of the usual suspects that specialise in seed rounds led the way. Y Combinator added 94 new portfolio companies — up from nearly 60 in 2020 — and other large US-based firms including SOSV and Techstars also saw a strong year.
Meanwhile, the seed investment numbers also illustrated the growing interest in the venture capital market in India.
Four of the top 10 investors in seed rounds in 2021, in terms of the number of companies they invested in, were from India: 9Unicorns Accelerator Fund, Titan Capital, Inflection Point Ventures and East Ventures.
India, which sees the second-most venture dollars of any country in the region — albeit well behind China — had an impressive 2021.
Overall, the country saw US$37.6 billion invested, a 12% increase from 2020.
The data contained in this report came directly from Crunchbase, and is based on reported data.
Data reported is as of Jan 7, 2022.
Source: The Edge Markets
https://www.theedgemarkets.com/article/softbank-temasek-among-names-pushed-asia-venture-funding-record-level-2021-says-report