KUALA LUMPUR (July 23): Investors of the Malaysian stock market could look into seven trading themes in the second half of 2021, particularly in the fourth quarter, says CGS-CIMB Research, which is expecting a potential market rebound amid the expected reopening of the economy post-vaccination.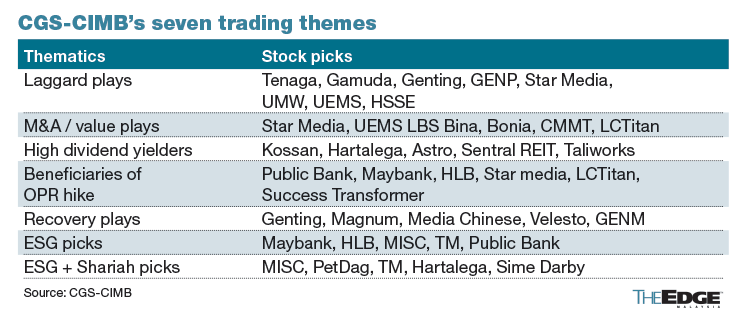 Its analysis suggests that the Government can achieve its target to fully vaccinate 70% of the population by November at the current daily vaccination rate. "This would pave the way for the economy to fully reopen in 4Q, leading to stronger corporate earnings," the research house wrote in its 2H2021 investment strategy report for Malaysia, released yesterday.
"This could also coincide with the return of net buy flows from local institutional investors, leading the market to re-rate in 4Q21. We advise investors to position in recovery stocks in August/September ahead of the expected full reopening of the economy in 4Q21," the research house said.
Among the key positives to watch out for in the second half are the roll-out of the 12th Malaysia Plan and Budget 2020 in November, it said.

"The 2Q and 3Q earnings season in August and November, as well as political developments and Parliament meetings in July/September/November are also likely determinants of market direction. The key concerns are emergence of Covid-19 variants that are resistant to the vaccine, slower-than-expected vaccine rollout, worsening political uncertainty and sustainability of the aggressive fiscal and monetary stimulus measures," it noted.
The seven trading themes it has identified are:
1. Laggard play
It screened stocks under its coverage with 'add' call, and whose share prices are 20% below pre-Covid levels.
"We are of the view that some of these stocks that were impacted by Covid-19 could re-rate after the economy has reopened, supported by an earnings recovery story driven by pent-up demand, resolution of labour shortage issue and improved economies of scale," it said.
Of 20 identified companies within this category, its stock picks relative to target price upside are: HSS Engineers Bhd (TP: 89 sen), Genting Plantations Bhd (TP: RM10.40), Genting Bhd (TP: RM6.90), Gamuda Bhd (TP: RM4), Star Media Group Bhd (TP: 50 sen), UMW Holdings Bhd (TP: RM4.20) and Tenaga Nasional Bhd (TP: RM13.40).
2. M&A theme/value play
CGS-CIMB is of the view that M&A activities could pick up as the low interest rate environment and challenges faced by businesses and conglomerates due to Covid-19 provide good opportunities for companies with strong balance sheets to look for potential acquisition targets at attractive valuations.
As such, it identified 18 companies with price-to-book value below 0.7 times, whose share prices have fallen over 30% from its peak five years ago, with negative compounded earnings growth in the last three years, and whose major shareholder owns over 30% in the company.
Aside from Genting (TP: RM6.90) and Star Media (TP: 50 sen), other stock picks in this category include: UEM Sunrise Bhd (TP: 56 sen), Lotte Chemical Titan Holding Bhd (TP: RM3.95), Sime Darby Property Bhd (TP: 83 sen), YTL Corp Bhd (TP: 81 sen), Success Transformer Corp Bhd (TP: RM1.05), LBS Bina Group Bhd (TP: 56 sen), Capital Malaysia Mall Trust (TP: 70 sen), and Bonia Corp Bhd (TP: RM1).
3. High dividend yielders
CGS-CIMB prefers stocks with high dividend yield (DY) "to provide shelter in these uncertain times" where overnight policy rate (OPR) remains suppressed at 1.75%. High dividend yield could also cap the downside risk of the stock, it added.
Its top five companies with the highest dividend forecasts for 2021 are Kossan Rubber Industries Bhd (DY: 19.1%, TP: RM4.20), Hartalega Holdings Bhd (DY: 9.3%. TP: RM8.50), Astro Malaysia Holdings Bhd (DY: 7.8%, TP: RM1.51), Sentral REIT (DY: 7.8%, TP: 99 sen), and Taliworks Corp Bhd (DY: 7.7%, TP: 93 sen).
4. Beneficiary of OPR rate hike
CGS-CIMB expects Bank Negara Malaysia to hike the OPR by 75 basis points (bps) in 2022 as economic activities normalise and the threat of Covid-19 recedes.
"A rate hike is positive for banks, as the upward re-pricing of lending rates has historically been higher than the increase in deposit rates, leading to potential expansion in banks' margins," it said. "Another potential beneficiary of a rate hike would be companies that have a large net cash position as they will gain from higher interest income," it added.
Its stock picks under this theme include Public Bank Bhd (TP: RM5.30), Malayan Banking Bhd (TP: RM9.30), and Hong Leong Bank Bhd (TP: RM20.78).
"Among the banks under our coverage, we project Bank Islam Malaysia Bhd (TP: RM4.27) and Alliance Bank M Bhd (TP: RM1.96 with 'sell' call) will see highest earnings upside of 7.5% to 7.9% for FY22 for every 25bps hike in OPR rate," it said.
Its non-bank stock picks in net cash position include Star Media (TP: 50 sen), LCTitan (TP: RM3.95), and Success Transformer (TP: RM1.05).
5. Recovery plays
These are companies under its 'add' call with the highest potential earnings recovery on an absolute basis in 2022 compared with 2021 levels — including those recovering from losses.
"The top five stocks that fit the screening of our definition of growth stocks and offer highest upside to our target prices are Genting (TP: RM6.90), Magnum Bhd (TP: RM2.30), Media Chinese International Bhd (TP: 21 sen), Velesto Energy Bhd (TP: 19 sen) and Genting Malaysia Bhd (TP: RM3.20)," the research house said.
6. ESG (Environment, social, governance) picks
Under this theme, CGS-CIMB screened counters under its coverage with the highest ESG scores from third-party assessors, namely FTSE ESG Grading Band, Refinitiv ESG score, Sustainalytics ESG ratings and MSCI's ESG rating. "Based on combined ratings from all third-party assessors, the top five ESG picks under our coverage with 'add' ratings are Maybank (TP: RM9.30), Hong Leong Bank (TP: RM20.78), Telekom Malaysia Bhd (TP: RM7), MISC Bhd (TP: RM7.95) and Public Bank (RM5.30)," it said.
7. ESG and Shariah picks
On top of ESG scores, CGS-CIMB screened its ESG picks with the Shariah-compliant criterion. "Based on our analysis of the combined ESG scores, our ESG-Shariah picks are MISC (TP: RM7.95), Petronas Dagangan Bhd (TP: RM20.17), Telekom Malaysia (TP: RM7), Hartalega (TP: RM8.50) and Sime Darby Bhd (TP: RM2.80)," the research house said.
Source: The Edge Markets